Our address is:
919 W. Kirby Ave., Ste. 5
Champaign, IL 61821-5123

The focus of Energy Visuals™ is the development of visualization products to meet the needs of the energy industry. Using PowerWorld Simulator, oneline diagrams (onelines) of the high voltage electric transmission grid have been developed. These one-lines will allow users to better visualize various geographic characteristics of the transmission grid, such as the flows on various lines, the magnitudes of the bus voltages, or contours of location marginal prices.
PowerWorld Simulator is an interactive power simulation package designed to simulate high voltage power system operation. A very user friendly and highly visual product, Simulator can be used to give an analyst a comprehensive look at issues surrounding electrical power flows in a transmission grid.
We also offer FirstRate® cost models for North American generators, ready for use with the PowerWorld Simulator OPF optimal power flow. Download a free sample.
The Transmission Atlas® products are oneline diagrams for PowerWorld Simulator and built on industry power flow cases. Including for MMWG/ERAG in the East, WECC & ERCOT cases. Also for power market areas of PJM Monthly Network Model cases, CAISO CRR FNM cases.
In addition to providing onelines to our customers, Energy Visuals provides consulting services as well.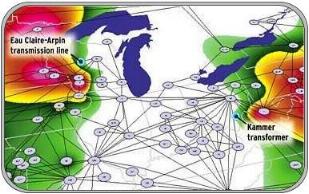 ELECTRIC LIGHT & POWER (Click Here - to read the article)
DEC. 2002 ISSUE feature:
"Visualizing the Electric Grid for Power Management and Marketing"
Thank you for your interest in Energy Visuals. Please contact us with inquiries, questions and comments about any of our products.
Email us at:

© 2014 Energy Visuals, Inc. All Rights Reserved.
Transmission Atlas® and FirstRate® are registered Trademarks of Energy Visuals, Inc.
Failed to execute CGI : Win32 Error Code = 259